Roly Saul the Restaurant has 5 different dining areas in different styles.
Ranging from modern glass, overlooking the fountains, to the original 1730's dining room in the old Millhouse.
Our unique restaurant allows us to cater for all occasions, so whether you are planning a romantic meal, a meet up with friends, a family or work celebration or wish to avail of one of our private rooms for a business function, it will be our pleasure to serve you.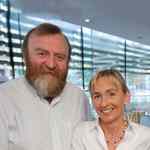 Roly & Ronnie